The purpose of this article is to show the new Drag Racing Results in the results and live timing views. 
Keep in mind, drag racing is a very new area for MyRacePass, so there might not be a lot of examples right now. The best example of drag racing results came at Texas Motorplex in October. When you search that track in the app, you can select the dates from the NHRA races to view the new events and live timing views.
As you can see below, the results view has been reconfigured to show winner, ET, MPH, and lanes as opposed to the typical list results view you might be used to in circle track racing.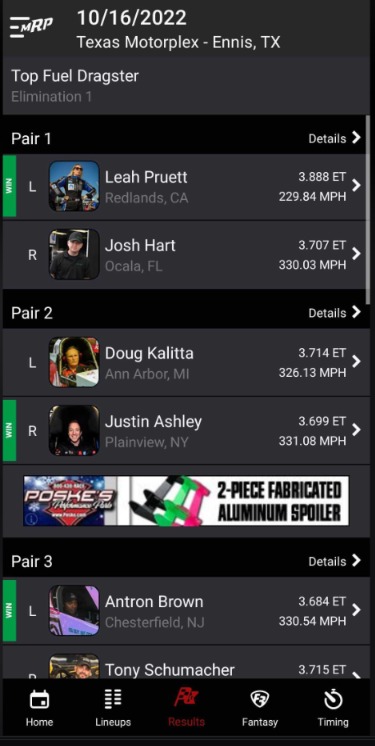 Another change comes in the live timing view. This view can be configured to have the fields fill in real time as the car races down the track, or all in one set after they reach the finish line.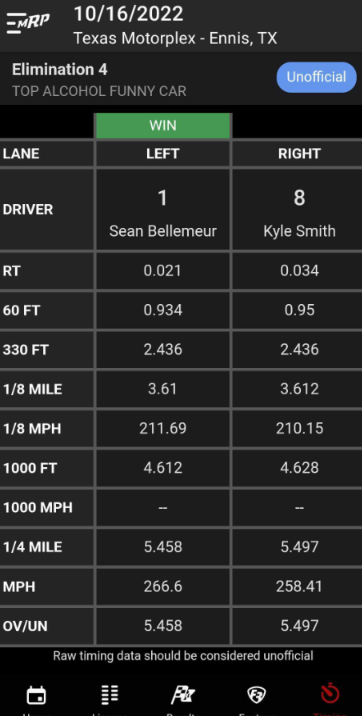 We understand there are classes or events that do not want this information to be public to the fans or competitors, we have a solution for that too! No time events will just show the winners in the app. If you are familiar with both circle track racing and drag racing, you know it will be a huge positive change for drag strips to be on the MyRacePass app. Let your local track know they need to reach out to us!