The purpose of this article is to outline the steps for configuring race setup in Race Management.
Note: Before you begin, make sure you have added the classes competing in the event. Follow this link to add a class in Season Management. You can also add a class on this screen by clicking Add Class.
From Race management -> Setup, you can change settings per class for Pill Draw, Transponder, and required registration options.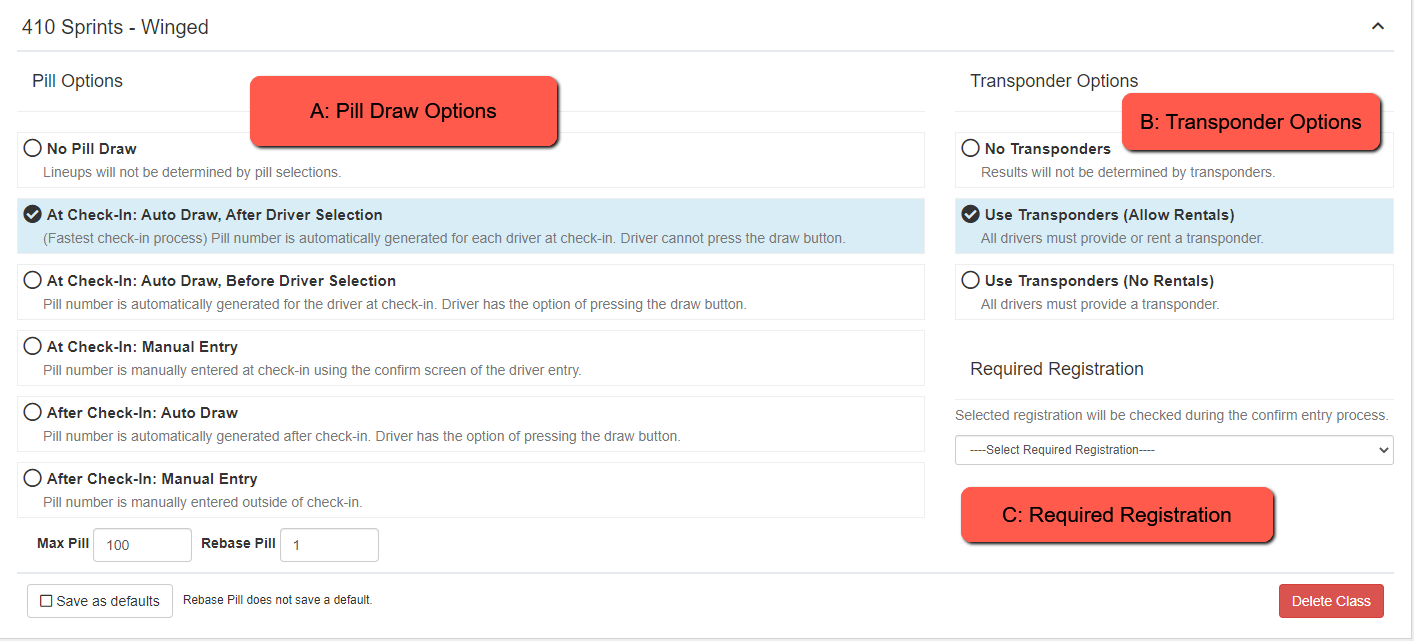 A) Choose the desired pill options from the list of available configurations.
Note: Read more about the available pill options here.
The "Max Pill" and "Rebase Pill" options show here as well.
Max Pill is the highest Pill number that is available for draw
Rebase Pill will be the new "lowest" pill option. For example if 23 is put in this box, 23 will act as the 1 pill and 22 would act as the highest pill option.
If an event has been approved by a sanctioning body, the sanction information will appear to the right of the class name.
B) On the right side of the page, select from the available transponder options.
Note: Read more about the available transponder options here.
C) If you want to verify drivers have registered in advance, select the registration from the drop down menu you want to be checked during the entry process. Keep in mind this is a Partner Plan only feature.
In the entry screen, if the driver has not registered there will be options to "Allow entry without a confirmed membership", or "Purchased a temporary license."
At the very bottom of the setup panel for each class, there is a "Save as defaults" check box to set these options as default for that class for future events. The Rebase Pill option cannot be saved as a default.
See Also: