The purpose of this article is to explain the process of updating profile information, adding a profile header, and adding a profile image to your MyRacePass profile. These images and information will be presented to fans on your MyRacePass.com public profile and in the MyRacePass app.
Updating Profile Information
Start by navigating to the profile tab, then choose the "Profile" Menu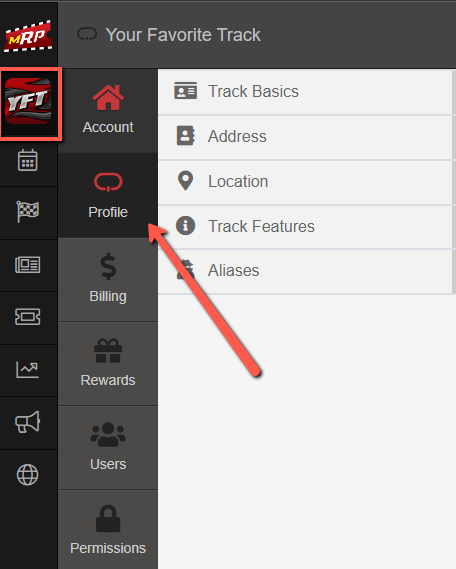 At this screen, there are 5 sections of profile information you can edit
Track Basics

Here you'll see things like the length, shape, banking and other information about your track.

Address

Add your physical address, mailing address, and contact information.

Location

Find you facility on the map to provide directions to your track in the MyRacePass app.

Track Features

This of this like amenities. Add information to help fans, families, and pits information as well.

Aliases
Updating Profile and Header Images
Start by navigating to the profile tab, then choose "Account" from the menu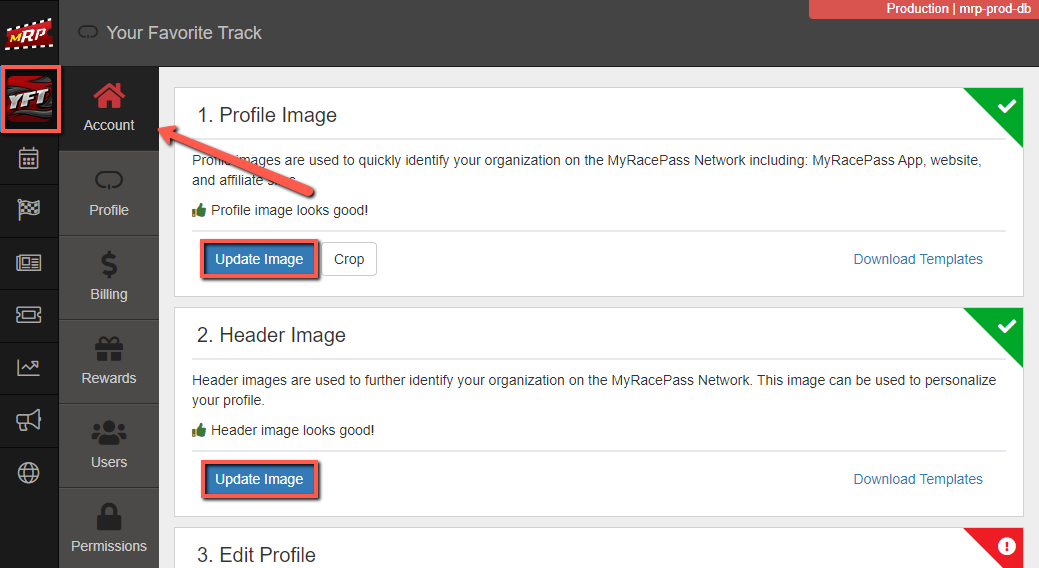 Use the "Update Image" button in each section to update the Profile Image or the Header Image
Click Update Image in the 1. Profile Image or 2. Header Image section as needed.
In the Upload Image modal, click Select File.
Select the image file from your computer and click Open.
On the Upload Image modal click Upload.

Note: An error message will be displayed if a problem is detected with the image along with feedback on correcting the problem.
Profile Image Requirements
Profile images must be at least 600 pixels tall and 600 pixels wide.
Profile images must have square proportions. This means that the width and height must have an equal number of pixels.

This means that an image 600x600 or 700x700 pixels will work, but an image 500x500 or 800x600 pixels will not work.

The image should contain a minimal amount of text.
Profile images should clearly represent the driver.
Header Image Requirements
Header images must be 600 pixels tall and 1800 pixels wide.
Header images should contain a minimal amount of text that appears only in the text-safe portion of the image.
See Also