The purpose of this article is to outline the steps involved and options available in customizing the online event registration messages. There are 4 types of messages that are editable. The Welcome Message, Car Number Message, Terms & Conditions, and Thank you Note.
Begin by visiting the Season Management tab. From the Settings menu in the upper right, select Registration Messages.

Welcome Message
The Welcome Message appears when a driver reaches the registration page before completing a registration.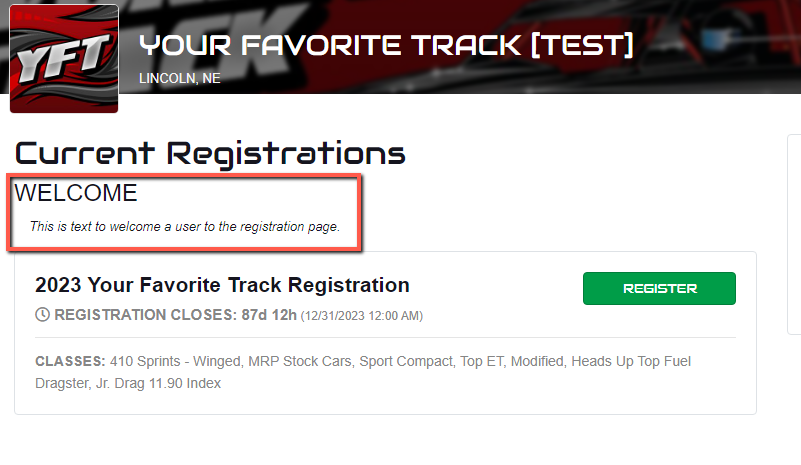 Follow the below steps to edit the Welcome Message:
To edit the Welcome Message seen at the top of the registration form choose a content type to be added, then click the corresponding Add Element button. Complete the form and click Save. For more information on the available content types, click here.

Note: There is no limit to the number of elements that can be added to the Welcome Message.

(Optional) Add additional content to the Welcome Message by clicking INSERT HERE either above or below the first element. Complete the form and click Save.
Car Number Message
The Car Number Message will appear for a driver when entering their car number options into their online registration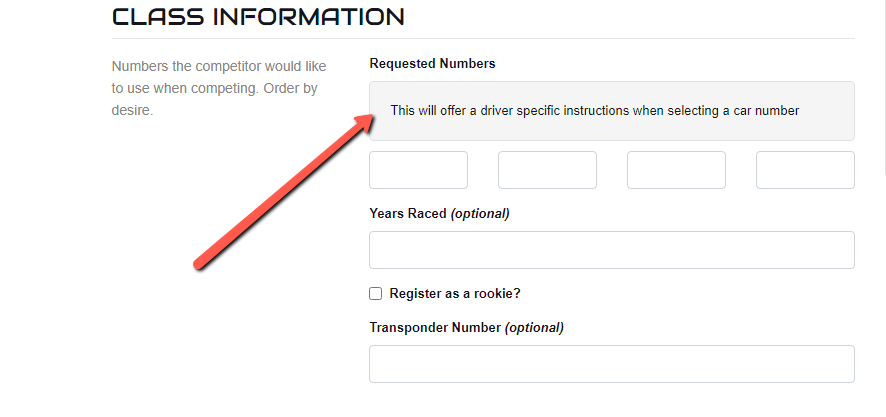 You can edit the message drivers see in the Select Class section of the registration form by clicking the edit icon in the top-right of the Car Number Message section. Once finished, remember to press save.
Terms and Conditions
The Terms and conditions will appear after a driver has filled in a registration before they confirm. You can edit these terms by selecting the terms tab above

Thank you Message
The Thank you message will appear for the driver after they complete the registration. Edit the note they see by selecting the Thank you option from the above tabs.
See Also: