The purpose of this article is the show the process of confirming an incoming driver registration.
To start, navigate to the Season Management tab, then choose the Registrations menu.

From there, you can use the "View Registrants" button at the bottom of the needed registration to see all the registrants.
In the next screen, you'll be able to see a blue "Confirm" button, and also an edit button to the right of unconfirmed registrants. The edit button will allow you to view the form, change the class if the competitor registered for the wrong class, edit their competitor information, or delete the registration.

When you press the "Confirm" button a few new options will appear in a new window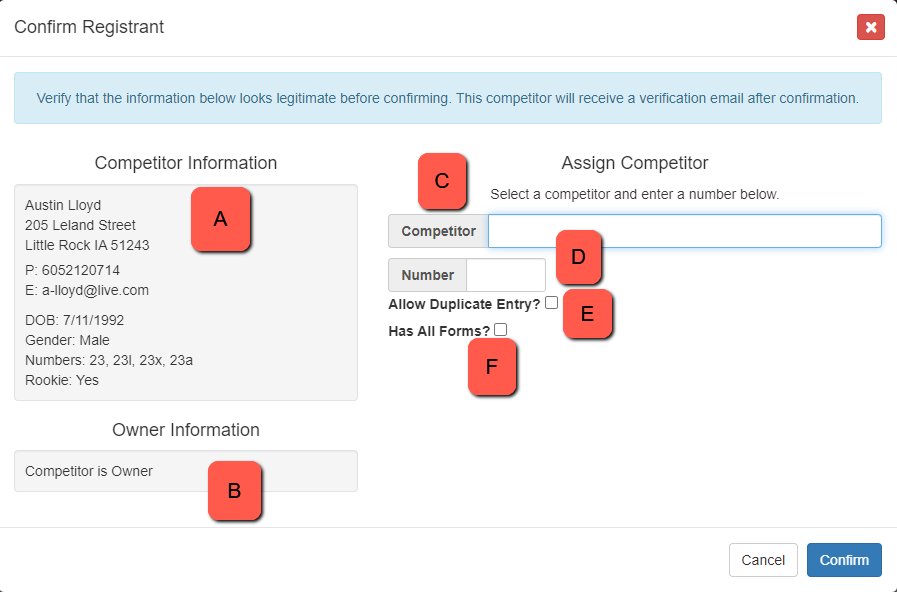 A) Competitor Information
This is information included in the entry form about the driver.
B) Owner Information
This is information included in the entry form about the car owner.
C) Competitor
Use this field to search for a driver profile. This is the process of associating this registration data with a driver profile. You can create a driver profile here if necessary.
D) Number
This will allow you to assign the driver a default number. Notice the number options the driver requested on the registration form.
E) Allow Duplicate Entry
This option will allow the driver to be confirmed in the registrations more than once.
F) Has All Forms?
Use this check box to show if the driver has submitted all paper forms outside of the MRP registration process. This option will also allow the yes/no toggle in the entry screen to show if forms have been turned in.
Once all of the information has been submitted correctly, use the confirm button to complete the confirmation process.
See Also: