The Purpose of this article is to show the features of the "Events" menu in Season Management. In this article, we'll create and edit schedules, create and edit events, look at tickets, and look at changing the event status.
Creating and Editing Schedules
Before creating events, you'll need a season to add schedules to. Find more information Here.
Once you've created a season for your calendar year and made sure to set up the config tab you can create one or multiple schedules within that season. Find more on how to create a schedule here.
Note: The purpose for multiple schedules would be for calculating points separately from your season long points championship. That could be event points for a multi-day special event. It could be for a regional series outside of your main travelling series. It could also be used for a special event series within a season or series.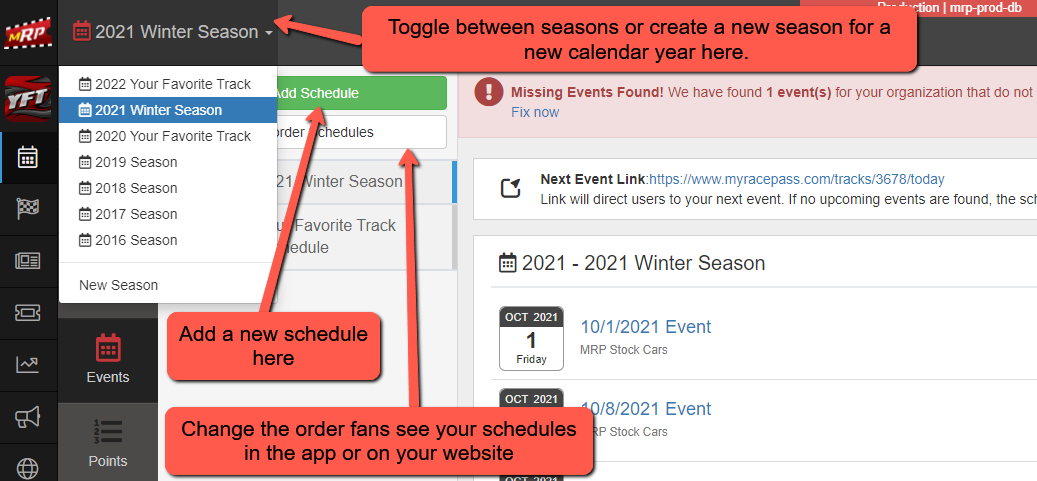 When you click on the edit button for each schedule, you'll see a page with even more options. You can apply that schedule to another season if needed, you can add downloads specific to that schedule. You can also utilize the advanced championship calculation for partner plan customers.
Creating and editing events.
Click on the total events option to view all events in a schedule and create a new event for your schedule. Choose the green "Add Events" option in the upper left to come to the first of a two step process for creating an event.
1. The first step will have you choose one or more dates on the calendar that your events will be held on.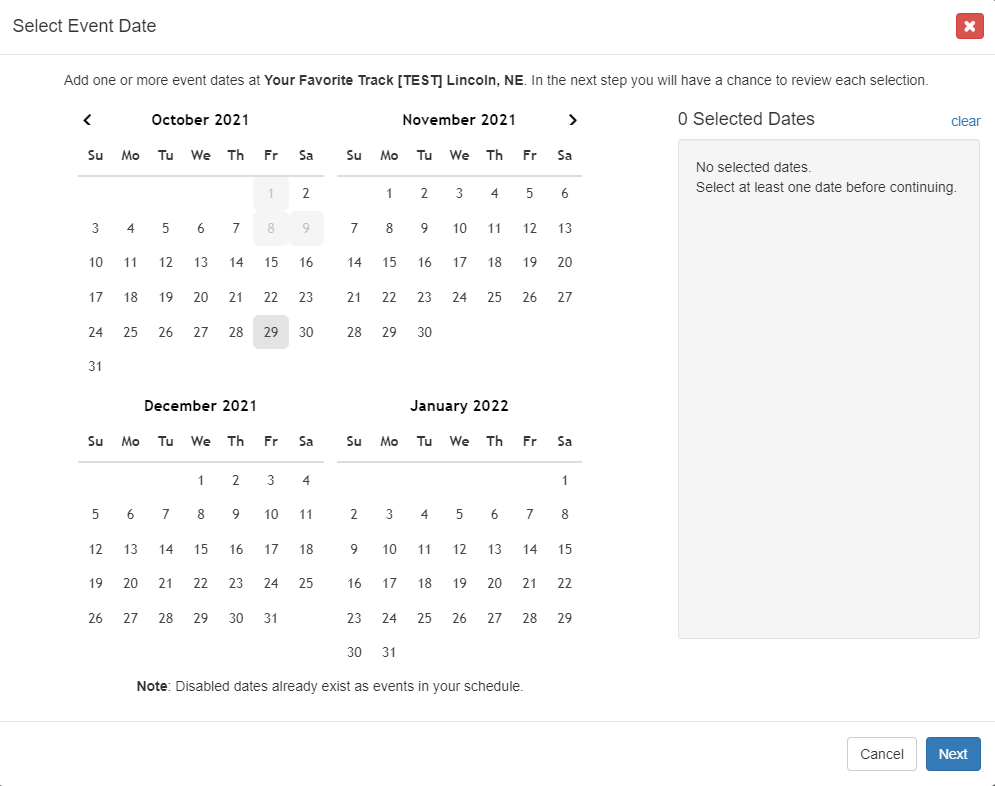 2. The second step will ask for three pieces of information.
(A) Fill in the event Name and Description. The Name will appear on the schedule page, and the description after fans click on the event name to look for more information.
(B) Times. These times will show in app as well for fans and drivers.
(C) Classes. Select all classes who will be participating in that event.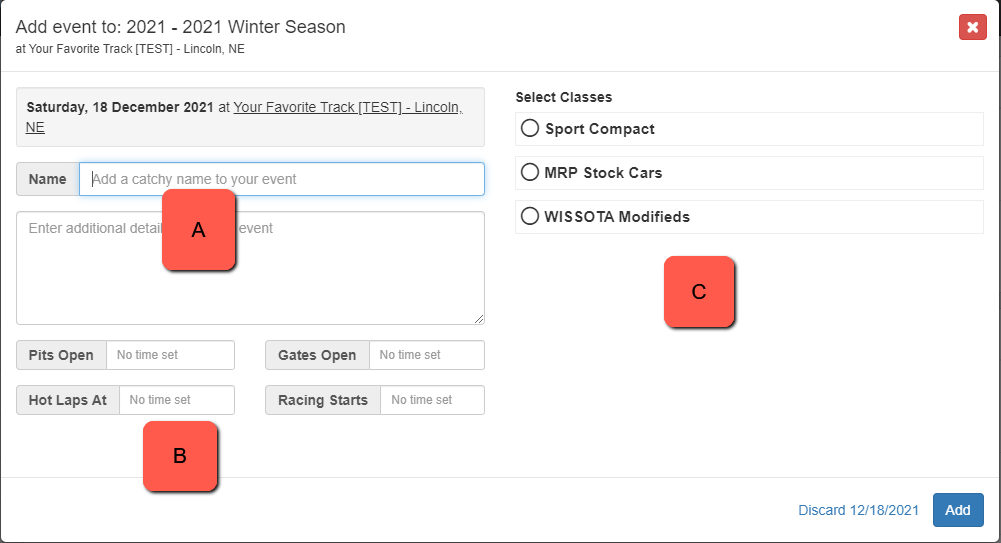 Once an event is created, you can edit the event to find more options by clicking on the event title. This will allow you to add tickets in a quick view (see our Online tickets articles for more on this), as well as add classes or series, add the event to multiple schedules, or edit the name or times.
Changing the Event Status (rainouts, cancellations)
Another option you have when editing an event is changing the event status.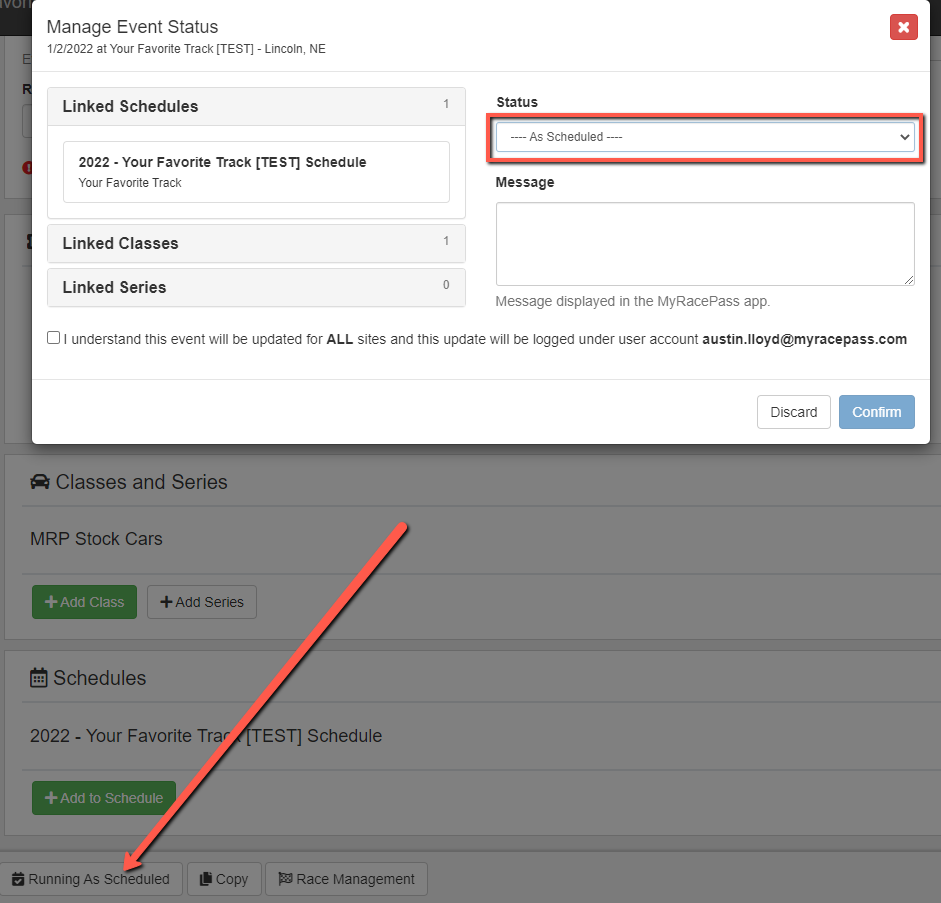 As you can see pictured, clicking the "Running As Scheduled" button will allow you to change that status in the event of a rain out or cancellation.
You can also add or remove classes or series from already existing events. Follow this link for more.
See Also: